Chard and White Bean Ragout
Baby, it's cold outside. What kind of food can warm you up in a hurry?
Hmmm … something like a hearty pasta or a chicken curry? Or maybe a lamb stew? It's always fun to improvise, so I decided to open the cupboards to see what I could put together without going outside. 
How about a white bean and chard ragout? Yum!
Now, a ragout sounds fancier than a stew, doesn't it? It's pretty much the same thing, although in this case, it's very fast, perhaps 20 minutes to prepare and cook everything. The beans only need a few minutes to simmer as the stock reduces and the flavors blend. A few more minutes for the chard to cook at the end, and you're ready.
This ragout is a simple blend of pantry basics—garlic, tinned white kidney (cannellini) beans, a tomato, along with some fresh Swiss chard. You could substitute another hearty green, like kale, for the chard. If you have any fresh herbs on hand, like thyme or rosemary, they will also make a lovely addition.
Beautiful. Simple. Tasty. Healthy.
Chard and White Bean Ragout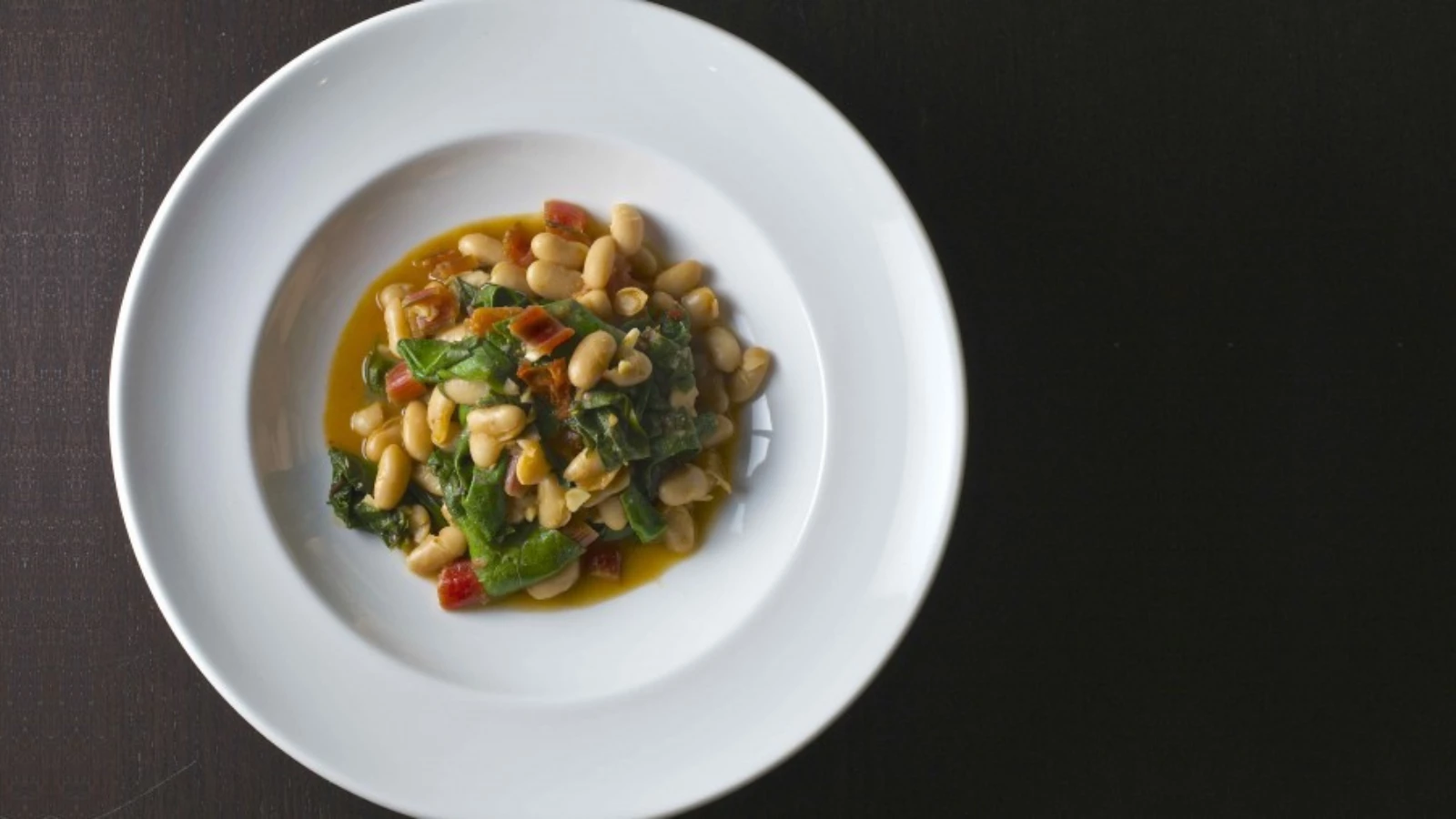 Serving Size: 2
Stave off the chilly weather with this hearty vegetarian dinner. It's simple and fast enough to put together on a busy weeknight—or after a good snow shoveling session. If you want to add some meat, I'd suggest grilling chicken or pork and adding it at serving time.
Ingredients
1 bunch Swiss chard (5-6 leaves)

1 tablespoon olive oil

3 cloves garlic, chopped

1/2 to 1 teaspoon red pepper flakes

1 tomato, coarsely chopped

1/2 cup vegetable stock

1 15-ounce can white kidney beans, rinsed and drained

1 tablespoon fresh thyme or rosemary, chopped (optional)

kosher salt and fresh ground pepper to taste
Instructions
Rinse chard leaves and separate the stalks from the leaves. Slice the stalks into ½-inch pieces and place in a small bowl. Slice the leaves into 1-½-inch strips and set them aside.

Heat oil in a large sauté pan over medium-low heat. Add garlic, red pepper flakes, and sliced chard stalks, and saute until the garlic has softened about 2 to 3 minutes.

Add tomato and stock. Increase the heat to medium and bring to a boil.

Add cannellini beans (and herbs, if using) and simmer for 2 to 3 minutes, or until the mixture has slightly thickened.

Stir chard leaves into ragout. Cover, reduce heat to low, and simmer for 2 to 3 minutes, or until the chard is cooked through. Season with salt and pepper and serve.
Reprinted with permission from Ant & Anise.com
We're Eve and Kris, an aunt and a niece. We love food. And while we have a lot in common in our approach, we also have our differences. So why not hash it out in a blog? Ant and Anise is a conversation about food in our lives, past and present. We like real food that doesn't take hours to prepare but has something unexpected about it. It helps if it's pretty, too.
Almost there...
Sorry, we couldn't find anything...
Pose Library
Staff Pose (Dandasana) is typically practiced with the spine perpendicular to the floor, and…
Sep 29 –
Yoga Practice Tips
Revolved Triangle Pose (Parivrtta Trikonasana) is a powerful pose with many benefits. This yoga…
Sep 28 –
Insomnia
Insomnia is more common than you may think. According to the Center for Disease…
Sep 26 –