Food Story: Rewrite the Way You Eat, Think, and Live – A Book Review
Elise Museles shows us we all have a unique food story that has shaped how we feel, think, and act around food. This article reviews her new book Food Story: Rewrite the Way You Eat, Think, and Live, which teaches us how to discover our own food story and reframe it to create a happier, healthier relationship with food and ourselves.
Picture this: You wake up every morning to green smoothies, your lunches are packed full of organic farm-fresh vegetables, and your homemade dinners are like rainbow superfood art on a plate. You do 90 minutes of yoga every single day, and you can't even remember the last time you had refined sugar. But despite the appearance of your perfectly green, health-conscious lifestyle, you begin to realize something is missing that's preventing you from being truly happy and at ease. This is precisely the revelation certified eating psychology and nutrition expert Elise Museles had that laid the groundwork for the food story method and book.
In the introduction to her new book, Museles tells us, "On the outside, I appeared to have this whole wellness thing down. But, inside, I was worried about being the pinnacle of health and wellness and holding myself up to ridiculous and impossible-to-achieve (let alone sustain) standards."
She explains that the irony is that she could barely recognize her preoccupation with consuming the perfect diet as a problem because she could easily write it off as part of a "healthy" lifestyle.
We All Have a Food Story
When Elise finally began to open up about how her thoughts and behavior toward food held her back, she realized she wasn't alone. She found an entire community of friends, colleagues, clients, and fellow health professionals who have had similar feelings toward food.
Some shared Elise's sense of perfectionism toward eating. But others had a relationship with food dominated by shame, despair, confusion, or overwhelm. Yet the common thread tying all these themes together was that everyone had their own story.
And by pinning down the memories that have influenced our food stories, Elise realized we could reclaim the narrative that shapes our behavior around food. In doing so with her own food story, Elise explains in her book, "I reminded myself of what food is really about: connection, nourishment, energy, pleasure, and love."
How to Rewrite Your Food Story
Elise's new book Food Story: Rewrite the Way You Eat, Think, and Live was born from her experience as a certified eating psychology and health coach using her food story method to help others shift their internal dialogues and behaviors around food. The book functions as a step-by-step guide to the food story method and as a workbook for unpacking your thoughts, feelings, and memories around food. Through teaching us to rewrite our food stories, Elise hopes to help us better understand our day-to-day food choices and empower us to allow food to let us live our best life—not interfere and control it.
Boost Your Mood with Food
In addition to teaching us practical tools to understand our inner narratives around food, Food Story includes over 35 healthy and delicious recipes all grouped by mood. Elise has us ask ourselves one simple question: "How do I want to feel?" Happy, focused, radiant, strong, comforted, sensual, or calm? Then you can choose a recipe or ritual (or both) to support the feeling you want.
By guiding us to unpack our personal stories around food and providing us with a new science-backed approach to cooking and eating, Food Story serves as a powerful book to help us banish negative self-talk and experience more joy, freedom, and fun both on our plates and in our lives.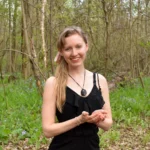 Elise Museles is a certified eating psychology and nutrition ex- pert, creator of the Food Story Method and platform, and host of the popular podcast Once Upon a Food Story. As an author, speaker, and mind-body eating coach, Elise's mission is to empower people to create a healthier relationship with food and their bodies by changing what's on their plate—and what's in their minds. For more, visit elisemuseles.com or check out her new book Food Story: Rewrite the Way You Eat, Think, and Live.
Almost there...
Sorry, we couldn't find anything...
Beginning Yoga
As yogis, you've heard and personally felt the physical benefits of yoga for the…
Nov 30 – Alejandra Leyva
Insomnia
Insomnia is not fun. It's a seemingly never-ending cycle of missed sleep that can…
Nov 29 – Leah Sugerman, E-RYT 500, YACEP
Yoga Practice Tips
Bird Dog Pose (Parsva Balasana) is a deceptively complicated pose. It may look simple…
Nov 28 – Charlotte Bell