Change Your Postural Habits and Change Your Spine
Article At A Glance
Just as small habits shape our lives, our postural habits shape our spines. Here, yoga teacher Eve Johnson shares how to navigate the challenges of changing our postural habits to improve spinal health.
If there's one thing that everyone, from bestselling authors to renowned philosophers, agrees on, it's the power of habits. From Aristotle ("We are what we repeatedly do") to Henry James ("Sow an action, and you reap a habit; sow a habit and you reap a character; sow a character and reap a destiny") to this thought, attributed to several people, including both Lao Tze and Gandhi,  ("Watch your thoughts, they become your words; watch your words, they become your actions; watch your actions, they become your habits; watch your habits, they become your character; watch your character, it becomes your destiny.") the message is clear and consistent:
Small actions, repeated until we do them almost unconsciously, shape our lives. What's less universally acknowledged is that our posture is a collection of habits, almost always deeply unconscious. Like the habits of thought that shape our lives, our postural habits shape our spines.
The Postural Habits that Shape Us
The first habit to address is how we place our pelvis. In modern posture, the pelvis is habitually pushed forward of the line of gravity and tucked under. That flattens our lumbar curve when we stand and creates a C-shape when we sit. If, instead, we make it a habit to take our weight into our heels and let the pelvis tip forward into its natural alignment, we have the foundation to create a long, erect spine.
Whether we live with that long erect spine depends on other habits, specifically how we manage three horizontal loads: our ribcage, our shoulder girdle, and our head.
If your habit is to lift your chest, you'll have a swayback. If you routinely let your shoulder blades wing out and you carry your upper arms forward, your upper back will round. If you lift your chin and poke it forward, your upper back will round more, and the rounding will be close to your neck. This is the habit that helps create a dowager's hump.
The Challenge of Changing a Habit
I've written before that balance straightened my spine. This is true, but not the exact truth. It's more accurate to say that I changed my habits because of balance.
I no longer lift my front chest. I carry my upper arms further back than I used to, and I lift the back of my skull to keep my chin back and down. These are new postural habits, so I have to consciously remember them. When I do, my upper back is long.
But sometimes, getting a bowl out of a low drawer or emptying the dishwasher, I do a mindless forward bend and feel the tension of my upper back rounding instead of the exquisite pleasure of bending with a long spine.
Each time I remember, the new postural habits get stronger, the old ones weaker. The 15th-century Dutch humanist Erasmus wrote, "A nail is driven out by another nail; habit is overcome by habit."
If you'd like to change your posture, you can expect to use a prodigious number of new nails. That's what practice is about.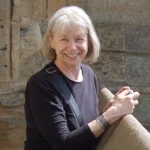 Almost there...
Sorry, we couldn't find anything...
Yoga Practice Tips
Bird Dog Pose (Parsva Balasana) is a deceptively complicated pose. It may look simple…
Nov 28 – Charlotte Bell
Stress Relief
For most of my life, I've struggled with rest. And I'm not talking about…
Nov 27 – Kristine Kaoverii Weber, MA, C-IAYT, eRYT500, YACEP
Arthritis
"I hurt all the time," said one of my students. "But after yoga class,…
Nov 25 – Beverly Davis-Baird, MA, e-RYT200/RYT 500, C-IAYT