3 Yoga Practices to Rewind the Clock on Brain Aging
Article At A Glance
Yoga and meditation have been found to boost the brain's grey matter, even as we age. But it's not just about brain size; these practices can also improve brain networks, cognitive skills, emotions, and how we handle stress. In this article, we'll explore three key yoga practices that are particularly effective for keeping your brain young.
What's the science behind yoga for brain health? A growing amount of research suggests yoga can boost the size and function of aging brains. For most people, the grey matter in the brain decreases with age, particularly in the hippocampus. The hippocampus is the area most responsible for memory and learning, and these skills tend to decline with age. The good news is that there are practices in yoga for aging brains.
Many studies are showing that yoga and meditation practice can increase the grey matter in the hippocampus, even in older adults. This is fantastic news in itself, but results also suggest yoga brings even more benefits to the brain. Yoga can positively impact the brain networks, change cognitive, emotional, and behavioral experiences, and even alter stress responses. 
With all those benefits, it seems we can't afford not to use our yoga practice for brain health. The following three practices pack the most power for age-proofing your brain.
Yoga for Brain Health: Breathe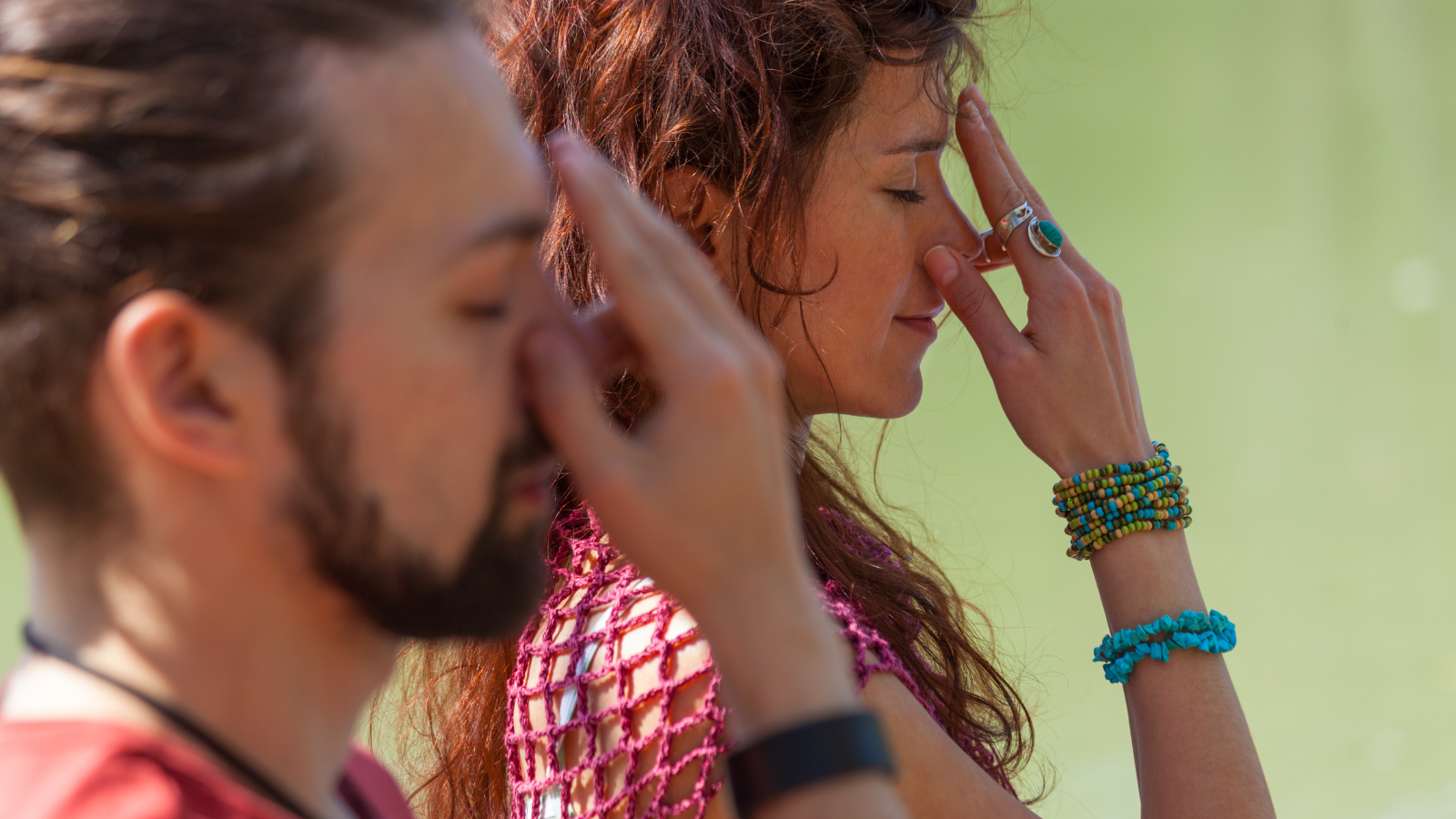 Our brain rhythms are closely tied to the rhythm of our breath. Our inhalation connects us to our sympathetic nervous system (stress response). This means we're slightly more sensitive to the external world during the inhalation. We can tune out the external noise when we exhale as it is connected to the parasympathetic nervous system (relaxation response). 
We can use breathing practices (Pranayama) to calm the nervous system and reset our focus. Stress plays a large role in shrinking the grey matter in the brain, so it's important to reduce stress where we can. We can shift ourselves into relaxation mode and reduce stress with our breath. Try this breathing technique to utilize the brain/breath connection:
Sit or lie down comfortably and close your eyes.

Breathe out fully to prepare.

Inhale for a count of 4.

Exhale for a count of 6. Try to keep the beat of your count the same. Just count to 6 for the exhalation.

Repeat for at least 2 minutes, longer if you have the time.

If a 4/6 count is too long, you can make it 3/5 or any other count as long as your exhalation is longer than your inhalation.

Once you get used to this practice, you can do it anytime, anywhere, to calm yourself.
Meditate for Brain Health
The active attention component of yoga and meditation practice has a positive effect on the structure and/or function of several parts of the brain. Along with the hippocampus, the amygdala, and the prefrontal cortex show less age-related decline in yoga practitioners. The amygdala takes part in our ability to respond to the world, and the prefrontal cortex looks after our logic and reasoning.
Mindfulness practice helps us to reduce stress, regulate emotions and think clearly. The breathing practice discussed earlier makes a great mindfulness tool, as does any meditation. If you're short on time or constantly on the go, try the following practice:
Mindfulness of the Positions of the Body
You can practice this any time, in any position.

Begin to focus your attention on your breath.

Breathe quietly and a little more deeply than usual.

Be mindful of the position of your body, whether you're walking, standing, or in a yoga pose.

Know you are in that position.

Be mindful of why you are in that position.

If there is no purpose, be mindful that there is no purpose.

Practice for 30 seconds or as long and often as you like.
Keep Moving: Yoga for Aging Brains
If you would like a more efficient and adaptive brain, physical exercise is necessary. It doesn't have to be gym or running, though. It can be a more dynamic yoga practice. Physical exercise, including flowing yoga practices, will boost blood flow and tiny blood vessel production in the cognitive centers of the brain. It will also increase the development of new nerve cells and increase connections between brain cells. Any flow where you connect movement and breath and require a little more exertion will help boost your brain. 
The particular yoga poses you include don't matter. It's the good stress on the body and cardiovascular system that counts. Also, you don't need a Headstand (Sirsasana) or other inversions to boost your brain. No evidence suggests inversions are better for brain health than other yoga poses. Ashtanga, Vinyasa, and Hatha classes will help keep your brain healthy as you age.
Almost there...
Sorry, we couldn't find anything...
Beginning Yoga
As yogis, you've heard and personally felt the physical benefits of yoga for the…
Nov 30 – Alejandra Leyva
Insomnia
Insomnia is not fun. It's a seemingly never-ending cycle of missed sleep that can…
Nov 29 – Leah Sugerman, E-RYT 500, YACEP
Yoga Practice Tips
Bird Dog Pose (Parsva Balasana) is a deceptively complicated pose. It may look simple…
Nov 28 – Charlotte Bell