Calm and Uplift: Supported Supine Twist
Supported Supine Twist is a wonderful way to release the entire spine while alleviating tightness in the shoulders and neck. This gentle twist relieves tension in the abdomen and stimulates the digestive system and kidneys. It also generates elasticity and strength in the core and improves circulation throughout the gut.
While it helps to stretch the back muscles, it lengthens the spine, hydrates the spinal discs, and releases shoulder, chest, and neck tension. Supported Supine Twist is recommended for those who want an uplifting, gently stimulating pose that can release stress and help to elevate your mood. It can be beneficial when we need to offer ourselves gentle care and attention.
I do this pose when I have an aching back, when my shoulders and neck are stiff, or when I feel down and need a gentle pick-me-up. It facilitates the release of tension all along the spine and in the belly, which, according to Eastern medical models, tends to hold emotions like fear and worry.
Those with hip arthritis, unstable sacroiliac (SI) joints, and severe back problems should avoid this pose.
How to Set Up for Supported Supine Twist
To set up for the pose, you'll need the following: a yoga mat, 1 to 2 bolsters, 1 to 3 blocks, 1 to 2 blankets, and an eye pillow. A sandbag is optional. If you don't have a bolster, you can use pillows or rolled-up blankets. If you don't have a sandbag, you can use a bag of rice or other grains.
Start by spreading a yoga mat on the floor.
Place a rolled-up blanket at the top of the mat to support your head and neck.
Place a bolster by the right side of the mat and a sandbag nearby, if you have one.
How to Practice Supported Supine Twist
Lie on the mat with the curve of your neck supported by the blanket.
Inhale and bend your knees, lifting your hips slightly to the left as you stack your left knee on top of your right and begin to twist to the right.
Extend your right leg parallel to the bolster. Then exhale and drop your left knee onto the bolster, letting your right leg rest on the ground as you gently twist your spine and lower back.
Extend both arms out in a T-position with your hands relaxed and your palms turned up. Keep your shoulders flat on the floor, close your eyes, and relax into the posture.
Let gravity pull your left knee down, so you do not have to use any effort in this posture. Cover your eyes with an eye pillow if desired.
Make sure you are evenly laid out, supported, and comfortable. Then elongate the back of your neck. Allow your head to release toward the floor and let your shoulder blades draw down toward the mat. Allow your thigh to sink down into the bolster and release. Feel your spine soften.
Turn your attention inward and focus on your breath. Inhale to lengthen your spine and exhale to allow your spine, belly, chest, neck, and shoulders to soften.
Greet the sensations in your spine and in your entire body with an open mind, observing without judgment. If emotions arise, observe them and the changing sensations in loving awareness.
A Variation on Supported Supine Twist
Place a weight on top of the hip of the bent knee, to help stretch the iliotibial band (IT band)—the thick band of tissue running down the outside of your thigh—and release your spine.
For a greater sense of containment, stability, and safety, place a block, bolster, or rolled-up blanket at the base of the spine to support your back body.
You can also place a blanket under the outstretched shoulder that is counter to the bent knee if support is needed.
You can place blankets under your lower arms with a slight fold at the wrists to release the wrists and shoulders.
Practicing the Pose
Sense all the places you feel your body making contact with the props and the ground. Take several slow, deep breaths to release your weight, melting into the support.
Actively stretch your left arm in opposition to your legs to provide a counterpoint to the twist. Imagine that the arm is weighed down. At the same time, gently press your left shoulder blade into the ground.
With each exhalation, revolve your abdomen to the left, away from your knees. Keep your low back energized by actively drawing your lumbar spine in to stabilize your core and deepen the twist. Feel how your skin, connective tissue, organs, and spine rotate with each breath.
Then bring your awareness to the entire spine. As you inhale, soften into any areas you feel need releasing—sacrum, lower back, middle back, upper back, shoulders. As you exhale, let go into the pose, melting into the props and the earth. Eventually bring your awareness to your front body—groins, pelvis, belly, heart center. Inhale deeply. As you exhale, melt into the support, releasing earthward.
Notice the sensations in your body and any emotions that arise. Notice without judgment, holding them in loving awareness.
You can also try releasing tension, stress, anxiety, worry, and exhaustion on the exhalation and cultivating peace, self-love, and comfort on the inhalation. As you drop into a greater sense of stillness, anchor your awareness in the sensations in your body by following the breath as it moves in and out, finding stillness as you open and expand into the pose.
Throughout your time in the pose, try not to let your bent knee shift below your pelvis. This places pressure on the lower back and leaves the lumbar vertebrae vulnerable to strain. And don't let your left arm and shoulder blade lift off the ground. This negates the counterpoint to the twist, leaving the shoulder, neck, and upper spine vulnerable to strain. If this area lifts too high, support it with a rolled-up blanket or neck pillow.
Be sure to practice the pose for equal amounts of time on both sides. When you're ready to change legs, inhale and gently lift your hips, then roll them back onto the floor. Exhale the bent-knee leg back down to the floor. Move the bolster and props to the left side of the mat, and repeat, twisting on the other side.
Stay 5 to 10 minutes on each side, as long as there is no discomfort. When you are finished, take your time to lift yourself up off the props and place them to the side. Roll onto your side and enjoy a few quiet breaths before coming up slowly, head last.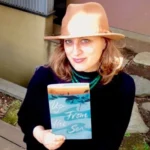 Almost there...
Sorry, we couldn't find anything...
Depression & Anxiety
Time and time again, I find that Patanjali's Yoga Sutras offer invaluable insight into…
Sep 23 –
Yoga Practice Tips
Thunderbolt Pose (Vajrasana) and Hero's Pose (Virasana) are classic seated yoga postures with many…
Sep 22 –
Pose Library
The hamstrings are a group of muscles running along the thighs' backside. Many people…
Sep 19 –